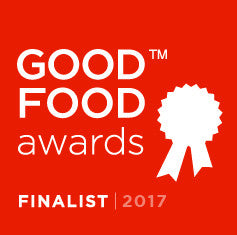 Nov 15 , 2016
We are humbled, excited, and honored to be among the 2017 Good Food Award Finalists for our limited-release Boyne Raw Honey. The Good Food Awards are the pinnacle of what it means to be a wholesome, pure food producer in the 21st century. We've dreamed of producing a product that merits Good Food status and are humbled that we have achieved such an honor only five years into our beekeeping enterprise. As the only honey selected from the state of Michigan, it is hard to express the renewed sense of pride, mission, and dedication we have to maintaining the healthiest honeybee hives in one of the most pristine environments in the world - northern Michigan!
Boyne Honey:
This is our 2017 Good Food Award Finalist Honey! Selected as one of the best honeys in the nation, and the only official selection from the state of Michigan, our Boyne Honey is unfiltered, unheated, and never-blended!
Boyne Honey boasts diverse flora from a thousand acre forest preserve, located in the middle of Boyne Country. These bees were invited to this preserve as part of one of the largest native habitat restoration projects in the area. The evolving forest landscape has created a floral buffet ripe for the picking and that diversity is on full display in this honey. Boyne Honey is a dynamic woodland honey, naturally complex and earthy. 
Flavor Notes: Oak, Pine, Walnut, Grass, Mint
THIS IS AMERICA: ANNOUNCING THE 2017 GOOD FOOD AWARD FINALISTS
San Francisco, CA (November 14, 2016) – The Good Food Awards could not be more proud to announce the 291 Finalists of 2017, representing not just the best of America's growing food movement, but the best of America. At a time when the values our country stands for are in question, they exemplify all that is right from coast to coast: our proud immigrant history, stewardship of a rich and fertile agricultural landscape, a spirit of innovation and the daily choice to balance personal gain with the wellbeing of the commons.

Representing 14 categories and 38 states, all Finalists rose to the top in a blind tasting of the 2,059 entries from nearly every state and passed a rigorous vetting to confirm they met specific Good Food Awards standards around environmentally sound agriculture practices, good animal husbandry, sourcing transparency and responsible relationships throughout the supply chain. Amongst their ranks are Nadia Hubbi in California, a Muhammara crafter keeping her Syrian family's tradition alive; Nacxitl Gaxiola in Brooklyn, whose company was created to honor the traditional salsas, moles, escabechese and adobes of Mexico; Paul Lieggi in Oregon working with the fishermen and women of the Nez Perce, Umatilla, Yakima and Warm Springs tribes to source hoop caught Chinook Salmon for his aromatic hardwood smoked salmon; and Ann and Dan Trudel, a husband and wife farmer and preserver growing and pickling organic brussels sprouts in the heart of rural Ohio. These 291 Finalists - and the hundreds of farmers, ranchers, fishermen and colleagues they collaborate with - are actively building the sort of world we want to live in.

The 200 Good Food Award Winners will be announced Friday, January 20, 2017, at a gala Awards Ceremony at the historic Herbst Theater in the San Francisco War Memorial, on the same stage where the United Nations charter was signed, and will be followed by two more days of celebration. Medals will be bestowed by renowned chef and activist Alice Waters and organics pioneer Nell Newman, tipping their hats to these exceptional food producers. A reception with the winning food and drink will follow the ceremony, offering both regional 'tasting plates' and small bites created by local chefs.
---